Like most folks, I had the "wonderful" opportunity of having an unconventional Thanksgiving this year. Thanks, COVID-19. By unconventional, I spent Thanksgiving in NYC instead of visiting family in Virginia. It was a tough one because Thanksgiving is one of my favorite holidays, and I like to spend it with my family, especially since I do not visit VA that often.
Thanksgiving recap (kinda):
This year the hubby and I pretty much celebrated Thanksgiving at home. Unfortunately, I did not take a picture of our wonderful Thanksgiving spread because I was a bit grumpy about not celebrating Thanksgiving in person with my Virginia peeps. Maybe I was kinda drunk by the time dinner was ready. But, the hubby did a great job with preparing our Thanksgiving feast, which included duck, ribs, collard greens, mac n cheese, stuffing, and cranberry sauce. I feel like I'm forgetting something; I guess that I should have taken a picture. I gotta say that he did a very good job with our feast.
Well, what the hell you contribute for the Thanksgiving dinner?
Dessert Recap:
For my contribution, I made a white chocolate, cranberry cheesecake (link to the recipe, ***). With the exception of the a few cracks in the top of the cheesecake, which I covered with the cranberry compote, the cake was wonderful. I think the cracks were caused by over-mixing the batter. Can't win them all.
I did deviate from the recipe by adding a bit of mascarpone cheese. Oh yeah, I added whiskey to the cranberries while preparing the cranberry compote. You know that I cannot make a dessert without adding booze. ;).
Slight Thanksgiving Meltdown:
As I add more years to my age and with increasing amounts of grey hair, I understand why parents may flip out over the smallest thing during the holidays. Ok, the plan was for me to make the cheesecake on Tuesday so the hubby could have the kitchen to himself to make all the other stuff on Wednesday.
Before I get into the story, I'm one of those folks who hates when things are not where I left them. I'm not OCD about it, but if the nutmeg is aways on the right side of a shelf, then it pisses me off when I have to search all over the place to find it. Or if something is in one place last week, but in a completely different, random place the following week. Here's the lowdown.
The day pretty much was over before it began. I started off the morning pissed because I had to spend about 20 minutes looking for my headphones for my run. Later, I learned that the hubby accidentally grabbed them before he went to work. So, I had to use our crappy generic wireless earbuds. Of course halfway through my 8 mile run, the earbuds' batteries died. Y'all know that I hate running without music.
Ok, I survived my crappy run and returned home to make the cheesecake. It should have been smooth sailing because I prearranged all of the things that I needed to bake the cake the night before.
I could not have been more wrong.
-I could not find the cream cheese that I placed on a specific shelf in the fridge. Anger level: Yellow. Remember there was still some residual anger because of the missing headphones and running without music.
-Next, I could not find the springform pan. The previous night, I specifically placed the pan on our kitchen island. Why the hell was the pan on a super high ass shelf (out of reach and out of sight) the next day?!!! Anger level: Orange.
-Then, I could not find the measuring spoons and nutmeg. Anger level: Fire engine red.
Boom! Out of frustration, I snapped and kicked a bag of groceries. Don't worry, the hubby was at work. I'm not proud of that, but I needed a release. I was beyond pissed about things that were set aside to make this cake were not in the places where I left them the night before. Fortunately, I kicked the bag of groceries that did not contain the eggs. Phew.
I guess that I was kind of like Andy Bernard from The Office when Jim put his calculator in a Jello mold.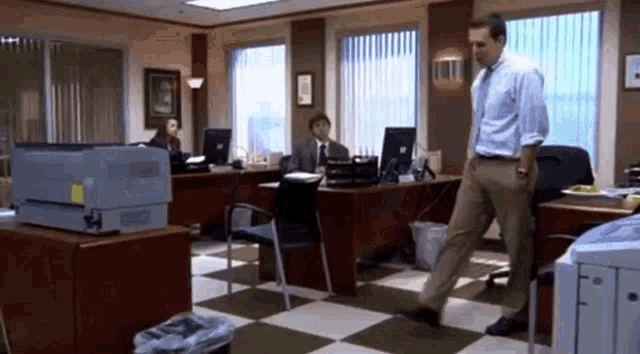 Actually, I do not think that I would had a meltdown, if I was not constantly looking for four separate things over a 45-min period.
Since my emotions were all over the place, I decided to give up on making the cheesecake on Tuesday and reattempt making it on Wednesday. Also, I learned the hubby took the nutmeg and measuring spoons to work. Although an immature response, I pretty much was in the mindset of "Don't nobody say sh*t to me" and ignored the hubby's (and everyone else's) texts for most of the day. You know things are real when I use double negatives.
But, I did go to my corner restaurant (alone) and had an entire bottle of wine. Yes, I had it indoors, but I was one of two people in the restaurant.
The next day was a lot better. I woke up at 5 am, made the cake, went for a run, and it was regular programming for Thanksgiving "eve".
Thanksgiving Day:
Although it was a bit tough not traveling to Va, I gotta say that Thanksgiving was very easy breezy. You know, with the exception of the meltdown. We pretty much stayed in our PJs for the entire day, watched Macy's Thanksgiving Day Parade (which was lame this year), drank screwmosas (mimosa + vodka), and had dinner on the couch while watching Sister Act 1 & 2 and Home Alone 1 & 2. Looking back, I would not mind having an easy breezy Thanksgiving once and a while. Oh, I even prepared pisco sours for our dinner cocktails. You know, in addition to the wine . . . so much wine.
All in all, it was not the best Thanksgiving, but I'm glad that I had at least one person close to my heart to spend it with.
I hope everyone had a nice, and more importantly a safe, Thanksgiving . . . if you celebrated.
Question of the Day:
What is your funniest holiday-related meltdown?